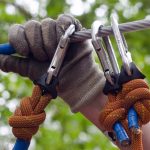 Recently, an appellate court issued an opinion in an accident lawsuit involving a Texas resident. The victim's joined his church group on an out-of-state wilderness expedition trip. The church hired a company to arrange the group's activities. The company required the participants to complete a "registration form" and "medical form." On the first day of the trip, the victim participated in a rappelling course. However, during the course, he became inverted, fell, and died. The victim's wife filed a lawsuit against the rappelling company.
In response to the lawsuit, the company moved for summary judgment arguing, amongst several issues, that Texas law did not apply to the case. Cases involving Texas residents suffering injuries in another state can pose many challenges to plaintiffs. The law provides that in diversity actions, the court should apply the conflict-of-laws rules of the forum state. This also applies in contract language dispute matters.
In this case, Texas laws require liability releases to be "adequately conspicuous," which is a stricter standard than Colorado law. As such, the plaintiff contended that because her husband signed the release in Texas, Texas law should apply. However, the magistrate judge concluded that Colorado law controlled the matter. On appeal, the appellate court explained that Colorado law applies because diversity actions require courts to apply the conflict-of-laws rules of the forum state.