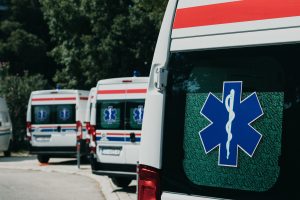 There are plenty of roads in Texas that do not have a physical median separating the lanes as vehicles move in opposite directions. This road design, coupled with distracted or reckless driving, often becomes the perfect storm for dangerous car accidents. Head-on accidents, for example, most frequently occur on this type of roadway when the at-fault party veers across the center dividing line and crashes into a car coming in the opposite direction.
In a recent news report, six individuals were killed in a deadly head-on highway car accident. According to the Texas Department of Public Safety, two vehicles were heading in opposite directions when one of the cars veered into the neighboring lane and crashed head-on with the other vehicle. The eastbound vehicle was carrying three passengers, who all died at the scene. The westbound car was carrying six passengers, and three were killed in the crash. The remaining passengers of the westbound vehicle were transported to local hospitals to treat their injuries. All of the passengers in the eastbound vehicle were wearing seat belts, whereas only the driver of the westbound car was wearing his seat belt. The crash remains under investigation by local authorities.
In Texas, like other jurisdictions, head-on car accidents can lead to a host of legal issues. Distracted driving or drowsiness are often common causes for these often-fatal crashes, as well as drunk driving or speeding.
Head-on collisions can often bring devastating consequences. Serious injuries include spinal cord or back injuries, which could lead to paralysis, neck injuries from the impact of the crash, whiplash, and concussions or head injuries that could lead to long term problems. Following a major collision, especially one that is as severe as a head-on crash, it is crucial that you seek medical attention immediately and get proper documentation of your injuries. Underestimating your injuries or brushing them off as minor may end up causing you more problems down the road.
Following a major car accident, you may consider bringing a legal claim against the at-fault party for property damage and physical injuries. The at-fault party could be responsible for covering current and future medical expenses or physical therapy, accident-related property damage to your vehicle, and even loss of current or future compensation from having to take time off of work temporarily or permanently. Submitting a claim with your insurance company will be crucial and is typically the first step in resolving these issues. There is no promise, however, that you will be fully compensated following your accident. Because car accident cases can often become extremely complex based on the specific facts of each case, potential plaintiffs are advised to hire an experienced attorney to negotiate on their behalf so they can effectively pursue the compensation they deserve.
Have You Been Injured in a Texas Car Accident?
Following a major San Antonio car accident, filing a claim may be the last thing on your mind. However, if you or someone you love has recently been involved in a car accident, contact the attorneys at Carabin Shaw. After an accident, you and your loved ones deserve to be financially compensated so that you can move forward on the road to recovery. To schedule a free initial consultation, contact us today at 800-862-1260.