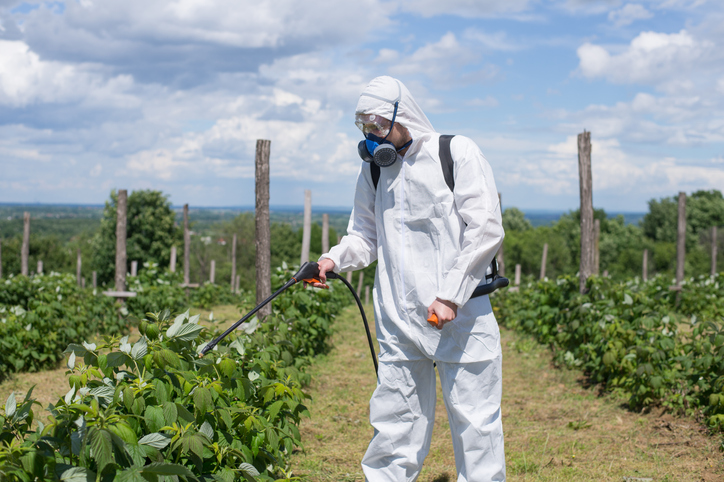 To save time and labor, farmers and agricultural workers often turn to herbicides to aid them in their agricultural work. For example, some herbicides like Paraquat aid them in exterminating overgrown weeds and other unwanted grasses. Unfortunately, while this may be beneficial to the farmer saving them time and money, Paraquat can have fatal consequences. Paraquat is an extremely poisonous herbicide that can lead to death if an individual or agricultural worker ingests it. 
Paraquat can not even be purchased in the United States unless the applicator has a license for it. The US Environmental Protection Agency (EPA) has classified it as "restricted use.". This herbicide has very tight restrictions due to the fact it's highly poisonous. Unlike most other herbicides, Paraquat can't be applied if the applicator does not have a license, even if they are under the supervision of someone who does. Paraquat is so dangerous that only licensed professionals are allowed to apply it on their crops. 
Several safety precautions are taken to deter an individual from confusing Paraquat with a beverage or other liquid. In the United States, A blue dye and sharp odor are added to the liquid so that one doesn't confuse it with other beverages as well as an added agent that causes vomiting if accidentally ingested. In addition, those who apply the product must wear extra protective equipment such as respiratory protection, safety glasses, and more. Those who mix and load Paraquat are required to wear full-face shields and chemical-resistant aprons. 
All of the precautions and safety regulations are needed because of how dangerous Paraquat is. Its high toxicity can lead to severe illness or death if exposed. Paraquat would be very easy to mix with beverages and food if dyes, odors, and a vomiting agent weren't added to it. When Paraquat comes into contact with the lining of the mouth, the stomach, or intestines, it causes direct damage. Once this poisonous chemical gets into the body, it disperses throughout the whole. Toxic chemical reactions occur across the body, affecting primarily the kidneys, liver, and lungs. Studies have shown an increased risk of developing Parkinson's disease from exposure to Paraquat. 
If you've been exposed to Paraquat and have developed Parkinson's disease, you may be entitled to compensation. Here at Carabin Shaw, we represent individuals and families in lawsuits stemming from all types of product liability cases. Our dedicated and knowledgeable product liability lawyers have given those affected by these matters high-quality legal representation for close to three decades. Our attorneys realize how challenging this time can be for the victims and their loved ones and strive to do everything in their power to make the process as easy as possible. We diligently work day and night to ensure you and your loved ones get the compensation you deserve. Millions of dollars recovered for our clients result from our hard work. Get in touch with our office for a confidential and free consultation at 800-862-1260. We will not charge you for our services unless we are able to recover compensation on your behalf.