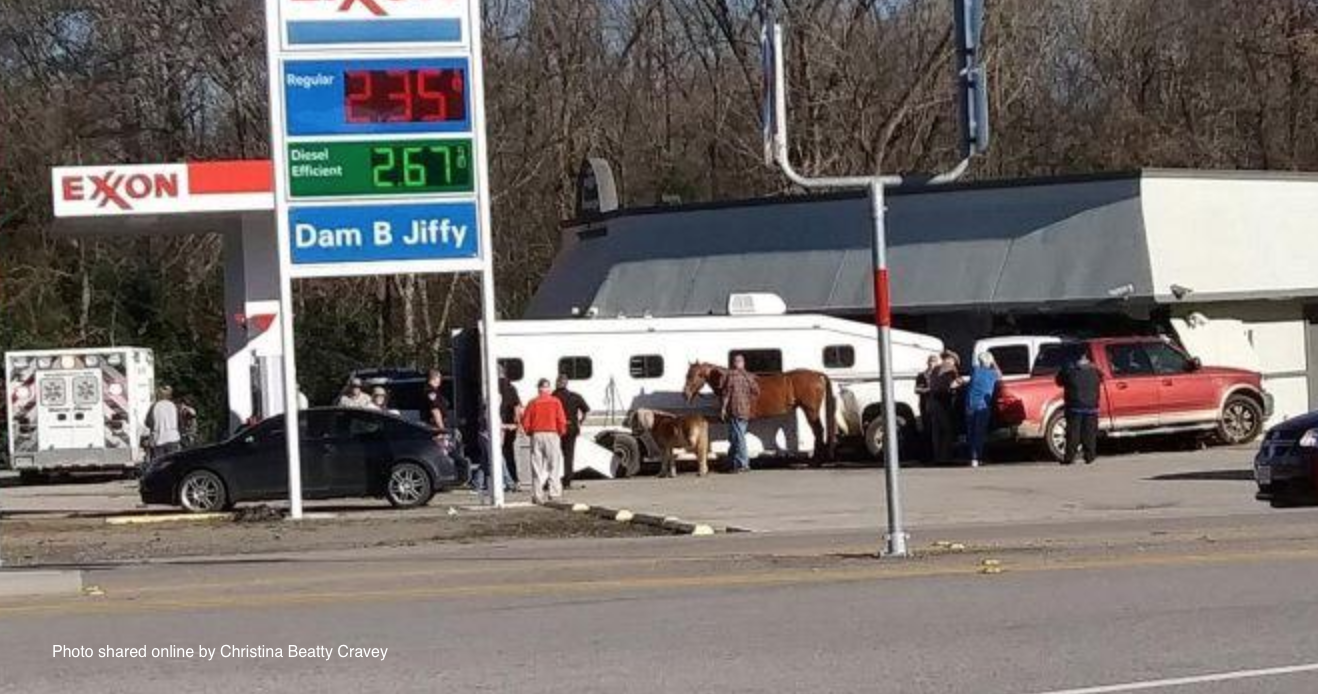 TYLER COUNTY, SATURDAY Dec. 14: A multi-vehicle accident over the weekend in northeast Tyler County sent two people to the hospital with serious injuries.  The Hyundai driver, Cora Goneau, 36, failed to yield the right of way to the GMC pickup truck which was towing a horse trailer.  The car turned onto Highway 92 in the path of the GMC. Driver Cora Goneauand and her passenger Joseph Griffith, 31, were taken to Baptist Hospital Beaumont with serious injuries. Laramie Dunn, 21, driver of GMC truck – sustained minor injuries. Two horses and six dogs traveling in the vehicles were not injured.
The truck towing a horse trailer was eastbound on Highway 190, while the Hyundai car was traveling westbound. The collision happened at the intersection of U.S. Highway 190 at State Highway 92, just west of Exxon Dam B convenience store, at about 2:00 Saturday afternoon. The GMC pickup truck then struck a Chevrolet Trailblazer and a Ford pickup truck before crashing into the convenience store wall.
Helpful Safety Tips When Towing Livestock in a Trailer
Although it's impossible to avoid all accidents, you can lessen any damage and injury to you or your livestock by following these safety tips.  Towing a trailer means using the right equipment, hitching up correctly, staying alert and thinking ahead. Make sure your vehicle weight capacity is enough to handle your trailer and cargo load.  
Be sure to increase your following distance when towing because it takes longer to stop with a trailer than it does with your vehicle alone.  Avoid sudden acceleration and braking. Be sure to observe traffic, watch out for crosswinds and trailer sway. Watch out for blind spots when changing lanes and make sure you have plenty of space to change lanes.
Be patient and calm when being passed by other drivers. Anticipate stops and begin braking sooner than normal. Don't pull into an area if there is no way out–it's important to allow plenty of space for a complete turnaround.  Source:  Curt Manufacturing 
If you, a loved one, or a family member has been injured or has suffered a wrongful death due to reckless driving, contact a car accident attorney who specializes in these cases to review your legal options.  You may be entitled to compensation for damages, medical treatments, and lost wages due to the incident.  
Lawyers at Carabin Shaw help clients get the care and attention they deserve after a serious accident.  Our experienced attorneys represent people and families who have suffered catastrophic injuries and tragic wrongful deaths.  If you or a loved one has been injured contact us today at (800)862-1260.
The personal injury attorneys of Carabin Shaw provided the information herein as a community service.