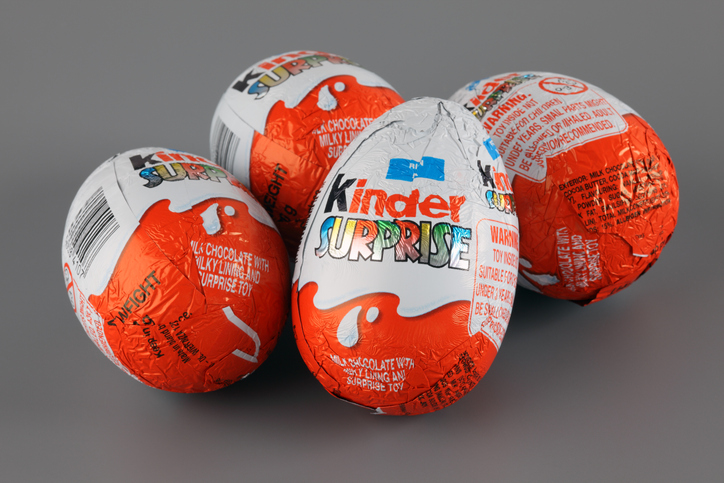 (May 12, 2022) Last month, on Tuesday, April 12, 2022, Ferrero recalled Kinder Surprise chocolates in the United States after several cases of Salmonella were reported across Europe and in the United Kingdom. Children under five years old made up the majority of cases. Ferrero claimed that the recall was "out of an abundance of caution" and that "we take food safety concerns very seriously." According to their website, some of the chocolates that were meant for European consumption made their way onto United States shelves by mistake, though at the time, there were no reported cases as a result. However, last week Wednesday, May 4, 2022, the Food Standards Agency (FSA) voiced concerns about the effectiveness of the recall. After checking several smaller local retailers, the FSA found that some of them were still selling the recalled chocolates, while others had purchased them only to have to discard them immediately. Additionally, the FSA found that the initial recall did not include all of the affected chocolates and provided an updated list.
The Dangers of Salmonella Poising to the Young and to the Elderly
Roughly 1.3 million people are diagnosed with Salmonella poisoning every year in the United States, according to the Centers for Disease Control and Prevention (CDC). While it can be contracted by pet reptiles, the most common source of Salmonella poising is food. The CDC also lists the following categories of people at higher risk of extreme or life-threatening sickness from Salmonella poisoning:
Children under five years old are the most likely to get a Salmonella infection.
Infants (children younger than 12 months) who are not breastfed are more likely to get a Salmonella infection.
Infants, adults aged 65 and older, and people with a weakened immune system are the most likely to have severe infections.
People taking certain medicines (for example, stomach acid reducers) are at increased risk of infection.
Sadly, children under five years old are the majority of reported cases in this most recent outbreak. Those over age 65 are also at risk, especially if they are on medication since their immune systems are much slower and weaker. Symptoms of salmonella poisoning usually present themselves within six hours to six days of consuming the contaminated food. In the most vulnerable, it can cause urine, blood, bone, or even nervous system infection.
Have you or a loved one been injured by defective products in San Antonio or the surrounding area?
The United States food supply is one of the safest in the world, but sometimes a defective and dangerous product makes its way onto the shelves. When American consumers make a purchase, they trust that the product is effective and safe. This is how it should be. Companies may try to avoid liability for the harm they have caused by issuing recalls. However, the warning could be too broad to avoid liability or ineffective, as was the case in this most recent product recall. If you or a loved one has been injured or hospitalized, or if you have suffered the tragic loss of a loved one due to a defective product in San Antonio, it is imperative that you act quickly. The statute of limitations varies from case to case, so contact our trusted Law Office today and receive your free consultation, obligation-free, at 800-862-1260. We look forward to serving you.