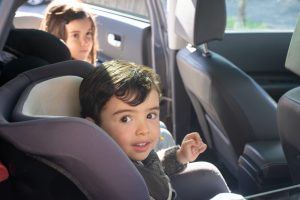 San Antonio, Texas:  It's back to school and back on the roads in Texas, make sure your children are safely buckled up or strapped in for trips in the car.
Motor vehicle crashes are a leading cause of death among children. While most people believe their children are properly buckled up, the National Highway Traffic Safety Administration (NHTSA) points out that 59% of all car seats are misused. The best way to keep young children safe in your vehicle is to make sure they're properly buckled up in a car seat. That means selecting a car seat that's appropriate for a child's age and size and installing it correctly.
"We encourage parents to take advantage of car seat safety checks available during Passenger Safety Week (September 19-25th).  With proper car seat, car seat installment, and seat belt placement, children are far safer during a motor vehicle collision," said Carabin Shaw Attorney Carla Dixon. "Knowing the guidelines for height and weight for your children is also extremely important to ensure your child is in the proper car seat or booster seat.  Serious injuries can be greatly reduced as well if we place children rear-facing car seats until ages 2-4."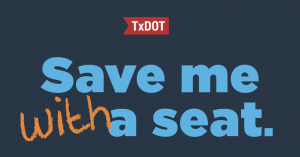 TxDOT's free safety seat inspections are available throughout the year. To schedule a virtual car seat check-up with a TxDOT Traffic Safety Specialist, visit SaveMeWithaSeat.org and enter your ZIP code to find the nearest TxDOT district office.  To find out more about how to keep your child safe, driver can also check if a child should be in a rear-facing, forward-facing or booster seat.  This info is all available on the website.

Texas law requires that all children younger than 8 years old, unless they are taller than 4 feet 9 inches, be secured in a child safety seat whenever they ride in a vehicle. Older children who have outgrown a booster seat must be buckled with a seat belt. Failure to properly restrain a child can result in a ticket of up to $250.
Top Tips about Car Seat Safety
Buying the right car seat. Your baby needs to ride in a rear-facing car seat as long as possible until 2 or more years. When your child has outgrown that seat, you are ready for a forward-facing car seat. Get more details about buying the right car seat for your child.
Installing your car seat. You'll need to decide on using either the seat belt or lower anchors to secure your car seat. Both are safe, but don't use them both at the same time. Once your child is forward facing, it is important to use the tether with the seat belt or lower anchors. Get more details about installing your car seat.
Getting the right fit. A properly fitted harness gives the best possible protection for your child. Here are more details about getting the right fit for your child.
When to change your car seat. Look on the car seat label to make sure your child is still within the weight, height, and age limits for that seat. Get details about when to change your car seat
More Information
Carabin Shaw is a personal injury law firm representing Texas car accident victims and their families. For nearly 30 years, the firm's dedicated and knowledgeable personal injury and wrongful death lawyers at Carabin Shaw have provided accident victims with high-quality legal representation, recovering more than $1 billion on their behalf.  Our attorneys understand that this is an extremely challenging time for accident victims and their families and do everything they can to make the process as easy as possible. Carabin Shaw offers all prospective clients a free consultation call (800) 862-1260