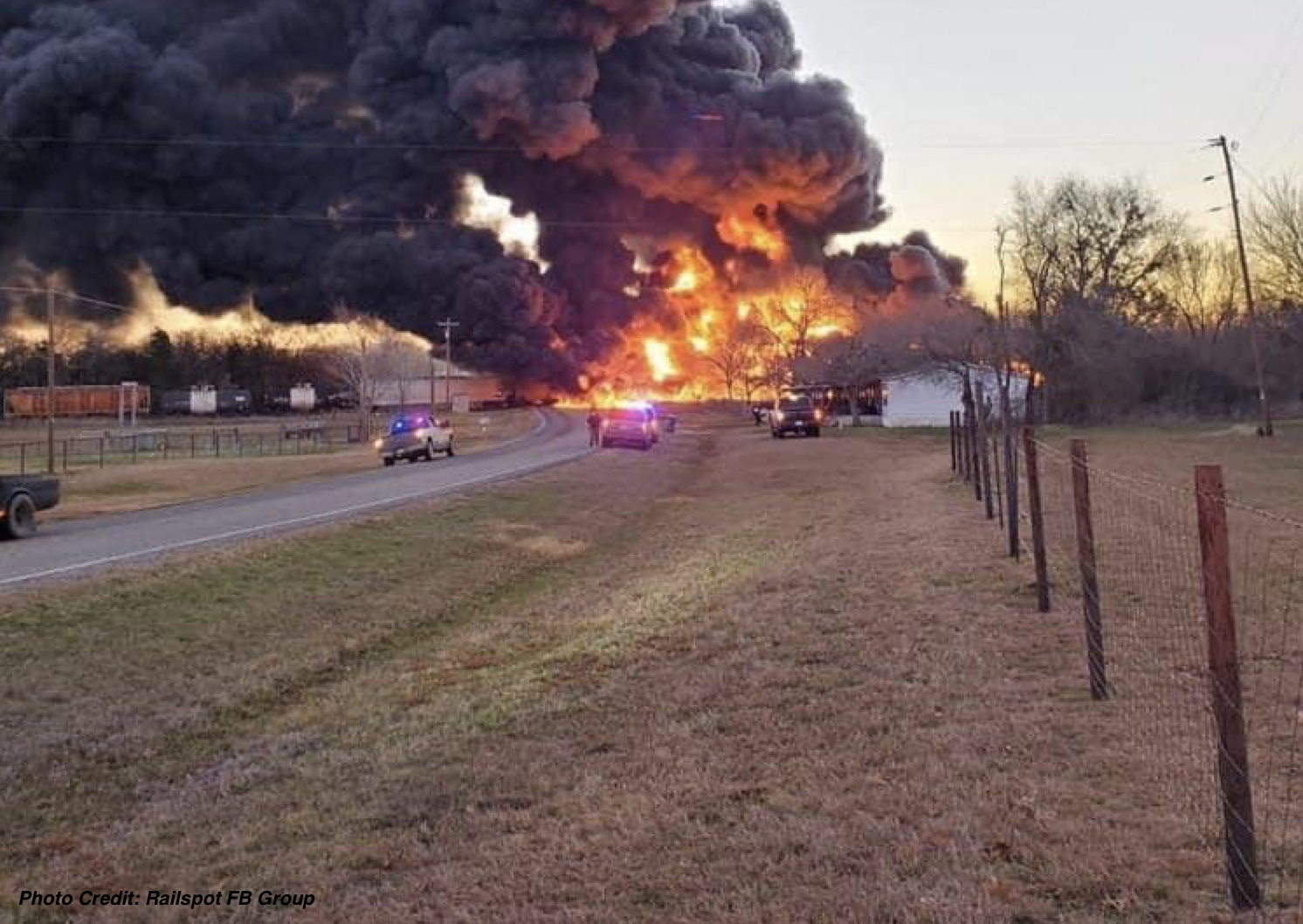 Tuesday, Feb. 23, 2021:  CAMERON, Texas — A freight train and an 18-wheeler truck have collided on FM 2095 in Cameron, causing a large explosion and fire.
According to Milam County Judge Steve Young, the crash happened before 7 a.m. several responders are on the scene, as tanker cars are overturned and inflamed.  Judge Young says the 18-wheeler hit the train, causing 14 train cars to derail; however, the driver of the 18-wheeler survived. According to Milam County Sheriff Chris White, all personnel on the train are safe.
Sheriff White says the train was carrying coal and gasoline and is the reason for the fire. He also said there was hazardous material cars in the back of the train but it was not touched during the collision. Hazmat arrived and took the hazardous material out of range of the fire.
"There's no more threat at this point," said White. "Just put the fire out and clean the mess up."
Homes have been evacuated and there are no injuries reported, but White said there was one home near the tracks that burned down.
Texas Department of Public Safety Troopers are investigating the collision.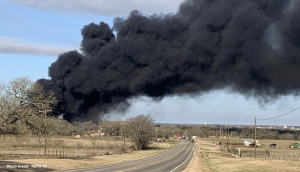 Drivers must take precautions around train crossings
Your chance of surviving a collision with a train is significantly less than with another car. Don't risk your life! 
Remember, trains take longer than cars to stop.

Reduce your speed when approaching crossings and look both ways.

Look and listen for trains even if the red lights and crossing arms aren't active.

Reduce speed when approaching crossings and look both ways.

Be sure all tracks are clear before crossing — there may be more than one set.

If red lights are flashing or if crossing arms have been lowered, stop: DO NOT CROSS!

Never stop on the tracks.

If your vehicle breaks down on the tracks, get out and dial 9-1-1.
Know the law
Texas law requires drivers to yield the right of way to trains.

It is against the law to cross tracks if a train is visible or to drive around gates that have been lowered at a railroad crossing.

If the crossing arms are lowered and no train is coming, the road is closed.
If you, a family member, or loved one has been injured or suffered a wrongful death due to negligence of others contact an attorney who specializes in these cases to review your legal options.  You may be entitled to compensation for damages, medical treatments, and lost wages due to the incident.  
Lawyers at Carabin Shaw help clients get the care and attention they deserve after a serious incident.  Our experienced attorneys represent people and families who have suffered catastrophic injuries and tragic wrongful deaths throughout the state of Texas.  If you or a loved one has been injured contact us today at (800) 862-1260.
The personal injury attorneys of Carabin Shaw provided the information herein as a community service.