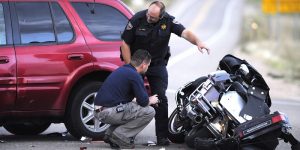 In a typical car accident involving just two vehicles, it can be challenging to determine who was actually at fault. However, in collisions with several vehicles, resulting in multiple accidents, it can be even messier to determine how the accident started, who hit who, and what actually happened. In these Texas chain-reaction car accidents, it is crucial that accident victims have an experienced attorney in their corner to help them pursue the compensation they deserve.
According to a recent news report, a young man was killed in an accident when he laid down his motorcycle to avoid hitting a stopped car on the road. Local authorities stated that the motorcyclist was coming up a hill when he noticed a long line of stalled cars in front of him. When two vehicles that were ahead of the young man swerved out of the way to avoid crashing into the line of stalled cars, it caused the motorcyclist to lay down his bike and crash into the back of a stopped car. Although he was wearing a helmet, authorities reported that the motorcyclist did not survive the crash. The incident is still being investigated by local law enforcement, but the crash was likely an accident without criminal conduct involved.
One of the biggest problems in these accidents is that the at-fault party or parties do not have enough insurance coverage to fully compensate a victim for the injuries they suffered as a result of the accident. All Texas drivers must have auto insurance minimums of $30,000 per person and $60,000 per accident for bodily injury liability. Also, drivers are required to have at least $25,000 in coverage for property damage.
Multi-vehicle accidents can make it challenging to determine who is at fault because there are various parties. Luckily, many types of evidence can be used to establish fault in a multiple vehicle collision in Texas.
Following a major accident, it is crucial to first take photographs of the damage, especially from multiple points of view and angles. These photographs will assist investigators when they reconstruct the accident, and shots of the roadway where the collision occurred can also help establish liability. Witness statements from those who may have seen the crash occur are also extremely helpful for your attorney and local law enforcement, which can also establish fault. Finally, accident reconstruction experts can also play a pivotal role in establishing liability and providing evidence to help you with your claim. These experts can look at the scene of an accident and piece together the chain of events that likely led to the accident and subsequent accidents.
Do You Need a Texas Personal Injury Attorney?
If you or someone you love has been recently injured or killed in a Texas car accident, contact the lawyers at Carabin Shaw. Our attorneys have years of experience representing personal injury victims in all types of claims. We understand how to effectively navigate the complexities of personal injury and car accident claims, making the process easier for you. When you bring Carabin Shaw into your corner, we vow to advocate tirelessly on your behalf to help you pursue the compensation you deserve. To speak to a member of our team today about your claim for free, call us at 800-862-1260.