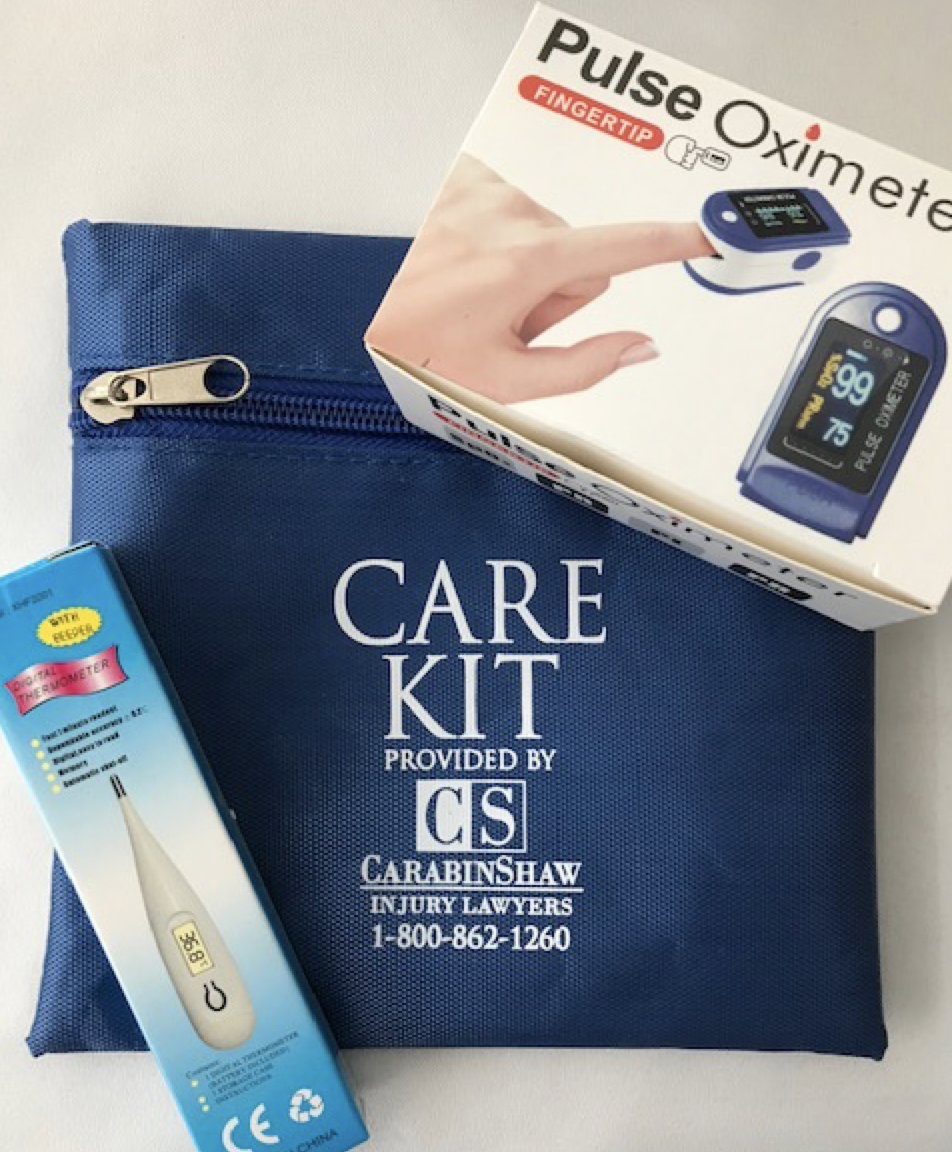 SAN ANTONIO, January 11, 2021– The Carabin Shaw Law firm is continuing its mission to help fight COVID-19 in Texas. The Firm has donated Healthcare Kits to the Gonzaba Medical Group which will be distributed to patients tested positive on a daily basis.
The Oximeter Healthcare Kits will be distributed in this manner:
Internal COVID Team (internal Team that assists with employee cases)
All 3 Gonzaba Urgent Care locations who see possible COVID cases
Case managers who go to patients' homes to provide care
The kits will also be distributed to Gonzaba physicians who are seeing COVID cases at 7 clinic locations
"We're thankful for community partners such as Carabin Shaw for contributing such necessary items to our patients during such a difficult time. This is just one more way that we're able to treat our community – como familia, like family," said Dr. Bill Gonzaba, CEO Gonzaba Medical Group.
Along with the donation partnership with Gonzaba Medical Group, Carabin Shaw Law firm over the past 3 months delivered pulse oximeter healthcare kits to additional non-profit organizations to fight COVID-19 in the San Antonio community. These pulse oximeters are for at-home monitoring to help those with COVID-19 to measure the oxygen levels in their blood. The kits are being provided to help those individuals who have the symptoms of COVID-19 and need to monitor their health condition at home. The kits also contain a thermometer.
"Monitoring your personal health during an active case of COVID-19 is important," said Jamie Shaw, founder of Carabin Shaw.  "Our community needs extra support during this COVID-19 pandemic, and we are thankful for community partners who are joining in our effort to offer more resources to those in need."
About Gonzaba Medical Group:  Gonzaba Medical Group is a family-owned medical practice providing quality healthcare and excellent customer service in convenient, family-friendly locations. Serving in multiple locations throughout San Antonio, Gonzaba Medical Group continues to change the way healthcare is delivered while staying true to its core principle: "The patient always comes first." For more information, please visit www.gonzaba.com or call 210-921-3800.
About Carabin Shaw:  For 30 years Carabin Shaw Law Firm has provided each client with an individualized approach to their personal injury cases and a commitment to our standards of excellence. Carabin Shaw believes in giving back to our community especially during these difficult times. We are dedicated to raising awareness of COVID-19 prevention, treatment, and recovery through these types of donations and funding to the South Texas Blood and Tissue Center for Post-COVID convalescent plasma donations.  To learn more, please follow us on our website www.carabinshaw.com , Facebook and Instagram.