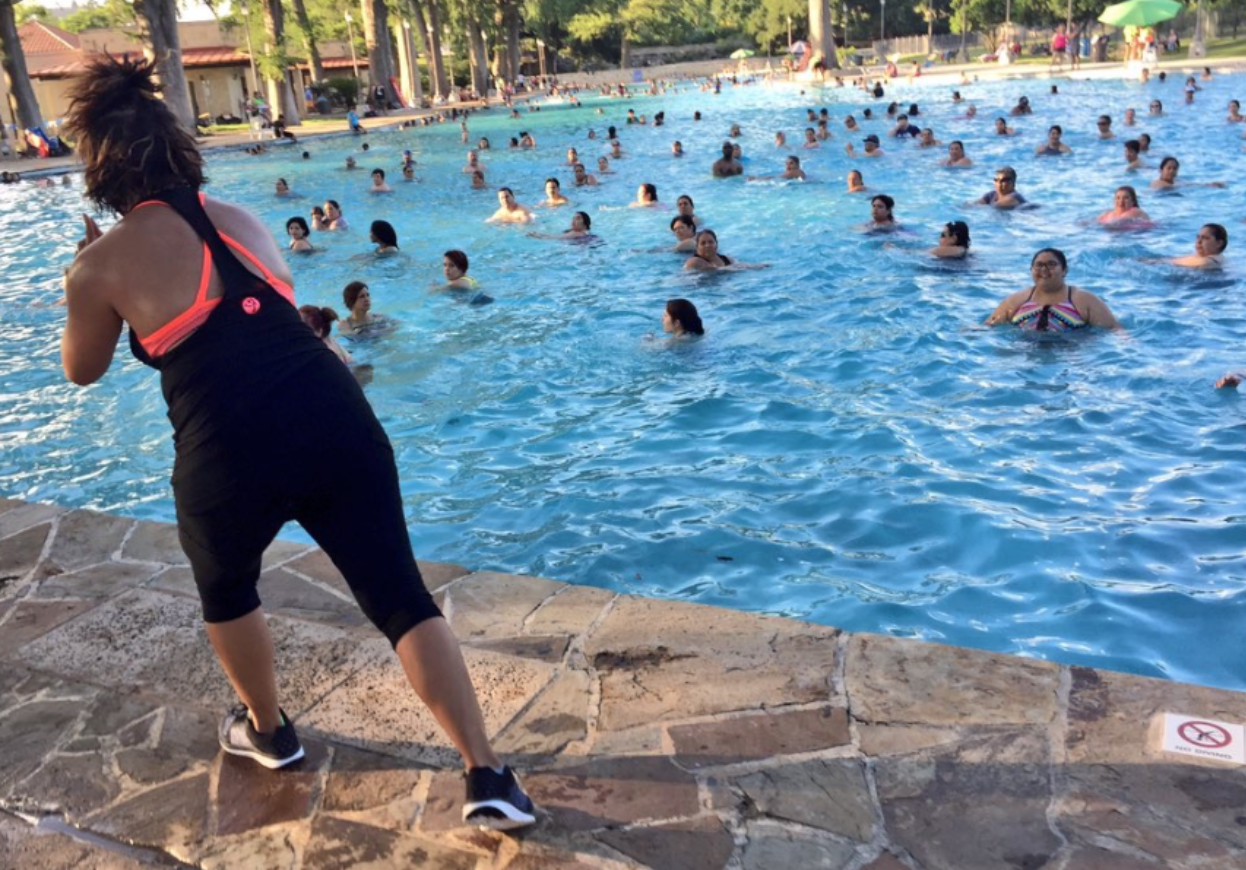 June 15, 2020, San Antonio, TEXAS–The San Antonio Parks and Recreation Department plans to re-open 11 outdoor public pools and five splash pads on July 3, according to its website. The popular San Pedro Springs Park pool is among those that are reopening. It was the first pool in the city, according to the Texas State Historical Association.
Connie Swan, the marketing manager for the city's parks and recreation department, said the pools will reopen at limited occupancy from July 3 to Aug. 9. The percentage of the occupancy has not been finalized. Hours of operation will be announced at a later date, Swan said.
On May 28, the city released a four-phase reopening plan. Pools and splash pads are part of phase three of the plan. The department manages 26 public pools, according to its website.
The department will reopen park amenities such as basketball courts, playgrounds, fitness equipment, skate plazas, the San Antonio Natatorium, and the Darner fitness center and reservation lobby located at Parks Headquarters during phase three of the plan, Swan said.
The splash pads scheduled to reopen on July 3 are at the following parks:
Benavides Park (1500 Saltillo Rd.)
Elmendorf Lake Park (3700 W. Commerce St.)
Hemisfair (630 E. Nueva St.); Lincoln Park (2803 E. Commerce St.)
Pearsall Park (5102 Old Pearsall Rd).
Pools set to reopen on July 3 are:
Elmendorf Lake Pool
Lincoln Park
Cuellar Park
Southside Lions Pool
San Pedro Springs Park 
Roosevelt Park Pool
Woodlawn Lake Park
Kingsborough Park
Heritage Pool
Spring Time Park
Lady Bird Johnson Park
Never leave a child unattended in or near water. 

Teach children how to

swim

. 

Teach children to stay away from drains. 

Ensure all

pools

and spas – both in your backyard and any public

pool

you may visit.

Do not enter head first unless in a pool that has a safe diving area.

Stay away from drains and other openings that cause suction.

Swim with a buddy.

Only swim when supervised by a water watcher.

Swim sober.

Supervise others sober and without distractions, such as reading or talking on or using a cell phone.
If a family member or loved one has been injured or has suffered a wrongful death due to pool or water related incidences, contact an attorney who specializes in these cases to review your legal options.  We have at your disposal one of the top attorneys in the nation on pool and pool litigation in the state.  In this type of situation where you are injured you may be entitled to compensation for damages, medical treatments, and lost wages due to the incident.  
Lawyers at Carabin Shaw help clients get the care and attention they deserve after a serious incident.  Our experienced attorneys represent people and families who have suffered catastrophic injuries and tragic wrongful deaths throughout the state of Texas.  If a loved one has been injured or worse, contact us today at (800) 862-1260.
The personal injury attorneys of Carabin Shaw provided the information herein as a community service.