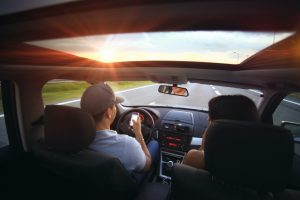 The risk of a motor vehicle crash is highest among teens aged 16-19, according to the Centers for Disease Control and Prevention (CDC). Teens aged 16-19 are almost three times more likely than other drivers to be in a fatal crash. In 2017 alone, 2,364 teens aged 16-19 in the United States were killed. This means that six teens aged 16-19 died every day due to motor vehicle crashes.
According to one study, Texas teens are some of the most dangerous drivers in the country, putting them at high risk for a Texas motor vehicle crash. About 40 percent of teens in Texas reported texting and driving, seven percent reported drinking and driving, and an additional seven percent reported that they rarely wear a seatbelt. The primary factors that increased the likelihood of a crash among the teenage population are male drivers, the presence of other teen passengers, and newly-licensed drivers.
Texas drivers must exercise reasonable care while they are operating a motor vehicle. In the event of a Texas motor vehicle crash, an injured party must show that a defendant owed a legal duty to the injured party, that the defendant breached that duty, that the injured party's suffered damages, and that the defendant's wrongful conduct proximately caused the damages suffered. In some Texas car accident cases, violation of a statute may be evidence of a defendant's failure to meet the standard of care. For example, driving while intoxicated may be evidence of failing to meet the requisite standard of care while operating a motor vehicle.
Teen Killed After Texas Highway Crash
According to a recent news report, a teen was killed in a recent crash on Texas highway 6 in West Harris County after the vehicle the teen was in collided with another vehicle. The driver, who was 16 years old, was driving on the highway around 2:30 a.m. when another it collided with another vehicle on the highway. The teen driver's car crashed into a light pole, causing the car to split in half. The teen driver had two teenage passengers, one of whom was tragically killed in the crash. He was also 16 years old. The driver and the other teen passenger were brought to a hospital in serious condition. The driver of the other vehicle was charged with DWI. Law enforcement is investigating the accident to help determine out who was at fault for the crash and whether other charges are warranted.
Contact a San Antonio Personal Injury Lawyer for Immediate Assistance
If you need an accident attorney that will fight for you, consult an experienced attorney at Carabin Shaw. Carabin Shaw has been fighting for the rights of victims of motor vehicle accidents, worksite accidents, and other accident victims for over 28 years. Our firm is dedicated to fighting for the rights of Texas car accident victims. We work with respected medical experts to ensure our clients get the treatment they need and help them pursue the compensation they deserve. To set up a free appointment, call us at 800-862-1260 or contact us via our online form. Our phones and live chats are answered 24/7.