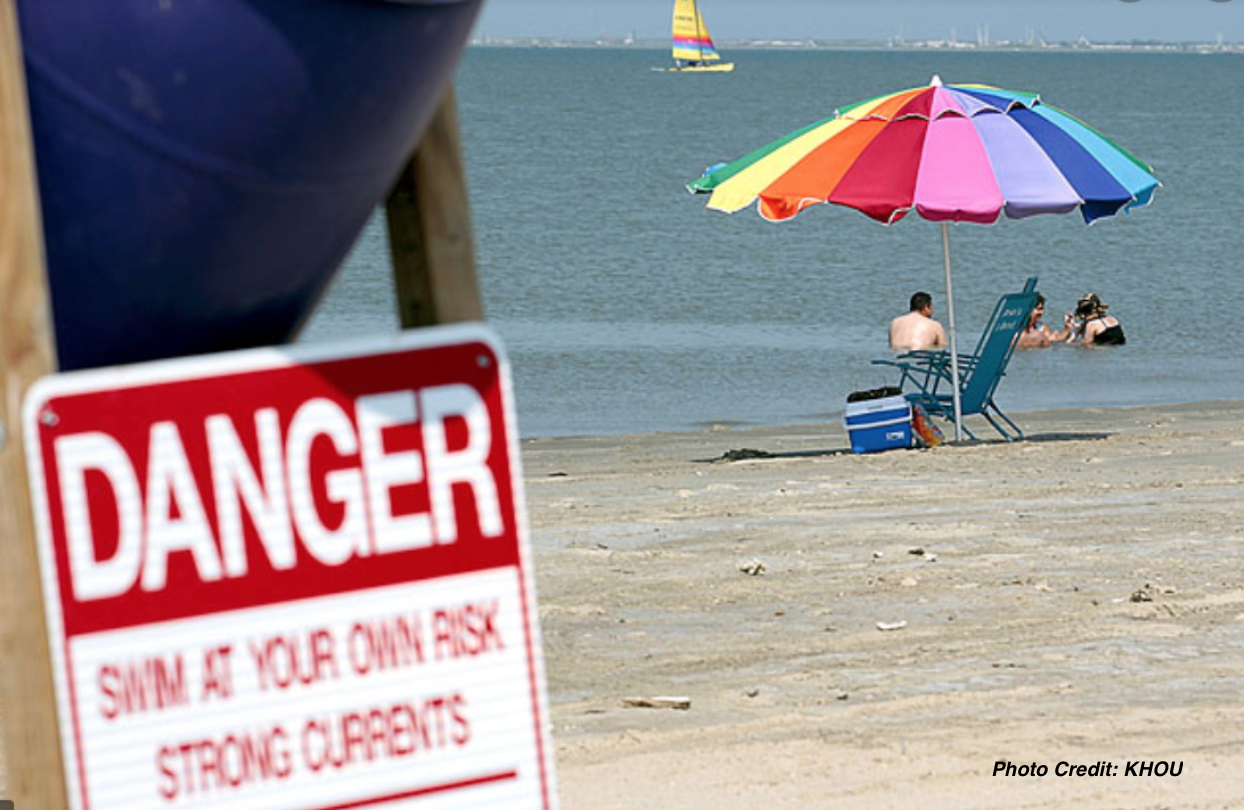 May 21, 2020:  HOUSTON — Water safety advocates and local authorities want you to be careful around the water this Memorial Day weekend.  Drowning is the leading cause of unintentional death in kids ages 1-4.  The coronavirus pandemic is making it worse.
"Because of people sheltering in place at home, and kids having greater access to water with supervision changes, kids not being in school, parents and caregivers trying to work from home," says Alissa Magrum of the Texas Drowning Prevention Alliance.
Magrum says child drownings started happening earlier this year because of stay-at-home orders, and now she worries about this holiday weekend.  "It's so hot, and people are going to be going to the beaches, getting to the lakes, getting to any kind of water," she says.
In Galveston, Beach Patrol Chief Peter Davis says they've had three drownings in the past few days as more and more people head to the water.  "When the governor opened the beaches, he opened the floodgates, so we went from having almost no one out here to literally 250,000 people," Davis says.
Davis says monitoring social distancing on the beach is one thing, but the number one priority remains drowning prevention, especially with the semi-rough water conditions he's expecting this weekend.
"Eighty percent of lifeguard rescues around the country and here in Galveston are a direct result of rip currents," Davis says. He says rip currents happen a lot near structures that stick out into the water, like piers and jetties. Here are water safety tips.
You should not swim alone.

Never leave a child unattended in or near the water.

Swim near a lifeguard.
Houston is not opening its public pools for now, and is not offering free swimming lessons as it has in the past because of the pandemic.
Ensure every member of your family learns to swim so they at least achieve skills of water competency: able to enter the water, get a breath, stay afloat, change position, swim a distance then get out of the water safely.
Employ layers of protection including barriers to prevent access to water, life jackets, and close supervision of children to prevent drowning.
Know what to do in a water emergency – including how to help someone in trouble in the water safely, call for emergency help and CPR.
Drowning Is a Leading Cause of Death for Children in the United States
Ten people die each day from unintentional drowning, and on average 2 of them are under age 14.

Drowning is responsible for more deaths among children ages one to four than any other cause except birth defects

Drowning is the leading cause of death in autism for children and adults. 

Children with autism spectrum disorder are 160 times more likely to experience nonfatal and fatal drowning than their typically developing peers.

Among those 1-14, drowning is the second-leading cause of unintentional injury-related death behind motor vehicle crashes.

For every child who dies from drowning, another five receive emergency care for nonfatal submersion injuries.
If a family member or loved one has been injured or has suffered a wrongful death due to pool or water related incidences, contact an attorney who specializes in these cases to review your legal options.  We have at your disposal one of the top attorneys in the nation on pool and pool litigation in the state.  In this type of situation where you are injured you may be entitled to compensation for damages, medical treatments, and lost wages due to the incident.  
Lawyers at Carabin Shaw help clients get the care and attention they deserve after a serious incident.  Our experienced attorneys represent people and families who have suffered catastrophic injuries and tragic wrongful deaths throughout the state of Texas.  If a loved one has been injured or worse, contact us today at (800) 862-1260.
The personal injury attorneys of Carabin Shaw provided the information herein as a community service.